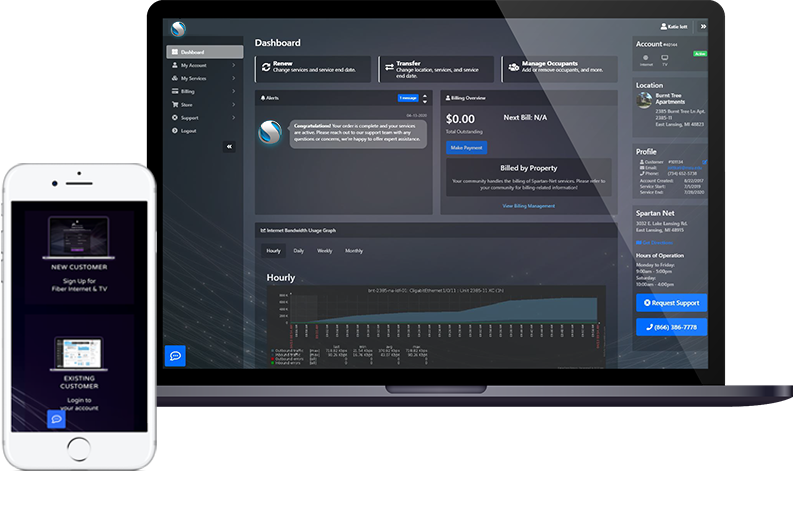 Stellar Broadband launches new property management interface.
"Knowledge itself is power."
Sir Francis Bacon summed it up quite succinctly back in 1597, didn't he?
Twenty years ago, when STELLAR Broadband was founded as Spartan Net in East Lansing, Michigan, we knew we needed an information portal to monitor and manage the network that served our customers, and that our customers needed something as powerful as well.
Ergo, STELLAR's property management interface evolved to equip property managers with a tool and a place where all the information on the technologies for their properties and their residents; a single pane of glass to manage the technology and manage their accounts.
Built by and Built for Property Managers
STELLAR Broadband was borne out of serving multi-family and student housing communities from the very beginning. We learned as a service provider what we could see was needed: a single way to monitor and manage all the various technologies servicing the property and the residents. It served the purpose and was beyond what was beyond any offering elsewhere in the industry.
We took it one step further. With a passion for continuous improvement, we surveyed, we interviewed, and we conducted focus groups with those who matter most: the property owners and managers who have a need and a use for it.
Over the years, these ideas and visions have become and continue to be all baked into STELLAR's Property Management Portal.
Today, residents have the ability through this self-service portal to set up and manage their accounts, view online FAQs and self-help support documents and videos, and engage with STELLAR's support and network operations center to request support place and monitor support tickets.
In addition to all the support available to residents, property managers through their own dashboard can also view resident accounts for activation, account billing, and when needed, suspend accounts for lack of payment.
One pane of glass. One back to pat. One step further. Stellar!