STELLAR Broadband Announces Delivering Technologies and Fiber Gigabit Internet to Perennial Corktown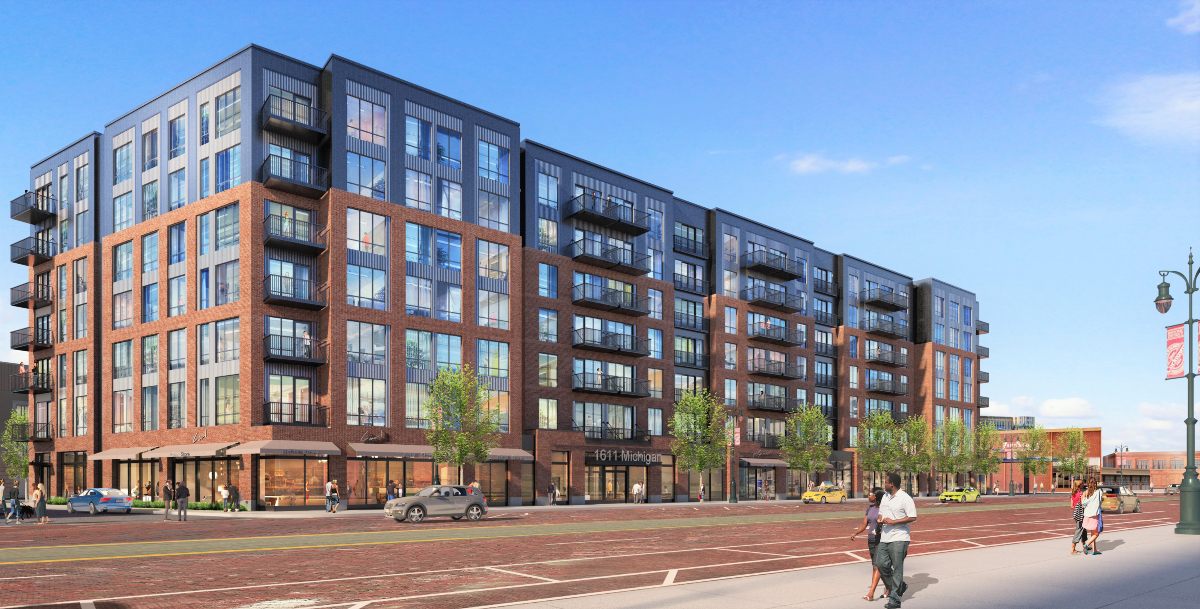 DETROIT, December 6, 2022 – STELLAR Broadband, a leading fiber internet and technology service provider for dense housing and multi-family communities in the Great Lakes region, has engaged with Hunter Pasteur, The Forbes Company and Oxford Capital Group, to deliver 21st century residential technologies and gigabit fiber Internet to their new Detroit development, Perennial Corktown.
Perennial Corktown is a seven-story apartment complex of 188 units that include a combination of studio, 1-bedroom, and 2-bedroom units. Perennial Corktown Townhomes, just around the corner, are seven town houses at 10th and Church Street, and a three-story parking garage at 1501 Church St. adjacent to the 227-Room Godfrey Hotel opening mid2023.These developments are within the heart of Corktown, one of the most in‐demand and growing locations in Detroit.
"Corktown has become synonymous with phenomenal food and drink and is home to an emerging business core," said Randy Wertheimer, CEO of Farmington Hills-based Hunter Pasteur. We strive to provide the very best experience to our customers, of which cutting edge technology and ultra-high-speed internet are critical to ensure we are meeting to demand of the modern day renter.
The first to bring gigabit fiber Internet to the apartment in Michigan and the first in the US to bring 10Gbps Internet to the apartment in student housing, STELLAR today serves 139 communities totaling over 10,000 residents with a wide range of technologies and services, from engineered and managed wireless to access controls and security.
"Today marks the launch of our partnership with Oxford Capital, The Forbes Company and Hunter Pasteur to deliver technologies bespoke to the residents who will call Perennial Corktown their home.The developers commitment to delivering a product of the highest quality will be met with the same level of quality to assure a stellar experience for the residents. We are thrilled to go one step further to expand our services and grow our portfolio in Detroit with this ownership group," said Richard Laing, president of STELLAR Broadband.
"Exceptional internet quality and technology is one of, if not the most, important factors for today's apartment renter when deciding where to live and we are excited to have STELLAR provide their best-in-class service at Perennial Corktown." Said Matthew Kalt, Senior Vice President of Oxford Capital Group.
"It has become increasingly evident that technology in all its forms that was once a desired amenity is now an amenity of need. We are grateful to partner with Perennial and Hunter Pasteur to further elevate and differentiate their properties," Laing stated.
About Spartan Net Co, dba STELLAR Broadband: STELLAR Broadband, founded in 2001 as Spartan Net, is the largest residential fiber internet service provider in the state of Michigan servicing over 139 communities with multi-Gigabit fiber internet. Today, STELLAR Broadband provides a full portfolio of technologies and technology services for multi-family and student housing developments.STELLAR services consist of structured wiring consulting, door entry and access control, engineered Wi-Fi, security, voice, television services, and various Internet of Things solutions for communities. To learn more, visit www.stellarbb.com
About Hunter Pasteur: Founded in 1999, Hunter Pasteur (HP) has grown to become one of Southeast Michigan's largest and most respected developers.Over the past two decades, HP has built and developed over 2,000 luxury single family homes and multifamily condominiums throughout Metro Detroit, including thriving communities in Ann Arbor, Bloomfield Hills, Clarkston, Commerce Township, Detroit, Lake Orion, Novi, Northville, South Lyon, West Bloomfield and many more. HP and The Forbes Company also have over 2,000 luxury multi-family units currently under development, valued at over $1 Billion in costs. A passionate advocate for the critical role housing plays in economic and community development, Hunter Pasteur has been honored as "Multifamily Construction Builder of the Year" by the Home Builders Association of Southeast Michigan. To learn more, visit https://www.hunterpasteur.com/
About The Forbes Company: Based in Southfield, Michigan, The Forbes Company is a nationally recognized owner, developer and manager of iconic regional shopping centers, recognized throughout their respective markets for their retail innovation, fashion leadership, distinctive architecture and luxury appointments. In addition to Somerset Collection, these properties include: The Gardens Mall in Palm Beach Gardens, Florida; The Mall at Millenia in Orlando; and Waterside Shops in Naples Florida. To learn more, visit https://www.theforbescompany.com/
About Oxford Capital Group: Chicago based Oxford Capital Group, LLC is an award-winning international real estate investment, development, and management firm that focuses on large-scale acquisitions, developments, redevelopments, and operationally intensive real estate. Oxford, its affiliates, and principals have been involved in over $3 billion of real estate and private equity investments, with a primary focus on hospitality (16,000+ hotel rooms); hospitality anchored mixed use projects including multi-family (2,000+ units); senior housing (3,000+ units); urban retail; and parking. Oxford Hotels & Resorts, LLC is its wholly owned hotel management affiliate, which specializes in operating, managing, and branding distinctive, high design luxury lifestyle hotels, and food & beverage venues. Oxford Living, LLC is its senior housing investment and management platform. Oxford Residential, LLC is its multi-family development affiliate.
###